Product Specifications:
– Filtration volume: 1.5L/min at pressure 40 psi
– Water pressure applicable: 10-60 psi
– Size: 275mm(W) X 342mm(H) X 218mm(L)
– Weight: 7kg (11kg when filled with water)
Product Benefits
After over 30 years of research, Japanese scientists succeeded in developing Energy Conversion technology that helps break water molecule clusters into smaller clusters for easier absorption. This technology is very popular in Japan, and has been widely hailed as a breakthrough health therapy.
More than 50 strict tests on water quality
In order to ensure that every Diamond Health Water System can provide water of the best quality, Diamond has sent its products all these years to authoritative laboratory agencies of various countries such as PROBE Analytical of Australia, ITS of Hong Kong, PSB Lab of Singapore and Consolidated Laboratory of Malaysia for testing of quality. In addition to scrupulous internal quality examination before introducing products to market, Diamond makes sure that every Diamond Health Water System meets the criteria of international safe drinking water.
Besides, we select the materials carefully before manufacturing and code all the passed materials and filters with serial numbers for ease of tracing. For each batch of products, a strict internal sample survey will be carried out for examination of more than 20 parameters including pH value, turbidity, colour, alkalinity, hardness, iron, copper, chloride, manganese, Enterococcus and Escherichia coli. This is to ensure that every sample of product meets the recommended safety standards of World Health Organization (WHO) before it is introduced to market.
*Original copies of test reports can be obtained from main office of NEP for reference.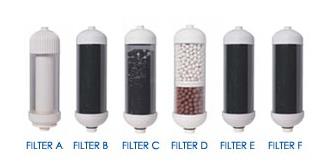 Six layers of filtration for extra reassurance:
Each of the 6 filters with patented design has different functions. Now let us look at the structure of Diamond Health Water System and understand how it produces clean and healthy water!
Filter A: Top notch ceramic filter, thoroughly filter out impurities like chlorine, dirt, rust and bacteria.
Filter B: activated carbon & natural mineral stones remove organic contaminants, unpleasant odours & colours in the water, while regulate mineral content.
Filter C: metal ion filter thoroughly removes heavy metals, chlorine and other chemical contaminates.
Filter D: natural magnetic ceramic balls with natural mineral magnetic stones effectively break water molecule clusters into the smallest possible size.
Filter E: natural mineral stones stabilises energy in the water to keep water molecule clusters at the smallest size for a prolonged period of time.
Filter F: calcium ions helps balance the water to a mild alkaline level.
 
Filter A that guards the first 'pass' or strategic position in the system
The Filter A in the Diamond Health Water System is supplied by a well-established and well-known ceramic filter manufacturer that has 150 years of history in Britain. All the manufacturing processes of the filter have met the quality standards of the stringent tests of BSEN ISO 9002: 1994. The manufacturer has obtained the Accreditation of NSF53 for this world class top quality filter from the National Sanitation Foundation of U.S.A. certifying that the filter can remove contaminants in the water that affect our health. Meanwhile, the Filter A of the Diamond Health Water System has also obtained the Accreditation of SF42 after independent examination organizations have proven in the tests that it can thoroughly filter out the mud, sand, rust and other impurities in the water and can remove bacteria as well. It is also certified that the filter can reduce contaminants and foreign substances that can affect the taste, smell and texture of the water. Besides that, it has been awarded the Gold Seal by the Water Quality Association of U.S.A. certifying that the materials used not only will not contaminate the water but also can thoroughly filter the sand, mud, rust and other impurities as well as kill bacteria.
| | |
| --- | --- |
|   | Product Usage |
| | |
| --- | --- |
|   | Diamond Health Water is smooth with a pleasant taste. It is more easily absorbed and will not cause abdominal discomfort. It further promotes metabolism and improves gastrointestinal condition thus making us healthier. |
|   | Diamond Health Water would reduce the sourness of fruits and give them a sweeter taste. |
|   | Fishy smells of seafood would be reduced and their taste would be improved by cleansing them with Diamond Health Water. |
|   | Bathing your household pets with Diamond Health Water would alleriate odour. Pets with fur would also get a more radiant look. |
|   | Mix or dissolve any health supplements with Diamond Health Water would assist their absorption into our bodies. |
|   | Shells of poached eggs boiled with Diamond Health Water becomes easier to remove. The contents of a cracked egg seldom leak out during boiling. |
|   | Seeds soaked in Diamond Health Water would germinate faster and register a healthier rate of growth. |
|   | The molecule bonds of Diamond Health Water are weaker than that of normal tap water and therefore it boils easily and saves electricity. |