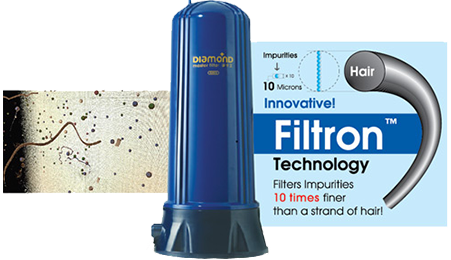 In order to address health problems caused by contaminated water in everyday use, NEP has developed Diamond Master Filter, the result of 3 years of extensive research. Diamond Master Filter is a breakthrough outdoor filtration system that adopts the revolutionary Filtron™ technology, which filters contaminants up to 10 times finer than a strand of human hair. Consumers can therefore enjoy the cleanest, safest water in their homes.
Diamond Master Filter uses multi-layered Filtron™ a high-density fibre that can filter matter as small as 10 microns, which is 10 times finer than a strand of human hair.
Diamond Master Filter is able to maintain its superb filtration functions because of its unique backwash function. Contaminants are easily untangled from Filtron™- the high-density fibres and washed away thoroughly, thus leaving the filter less susceptible to contaminantion.
Diamond Master Filter is equipped with a CE500PI energy converter to break down water molecule clusters into smaller clusters. These smaller clusters penetrate easily into fabrics to remove dirt more effectively during wash. They also give water a smoother, more refreshing feel.
Diamond Master Filter – 19.8 times cleaner than conventional filters!
Here are the comparisons:
| | Weaknesses of Conventional Filtration Technology | Strengths of Diamond Master Filter's New Fabric-based Filtration Technology |
| --- | --- | --- |
| | Uses outdated sand and stone filtration technique. | Uses a revolutionary fabric-based filtration technique from the US. |
| | Sand and gravel filtration media are porous with a density of 100 microns or more, making them less effective in filtering contaminants. | Filtron™ has a density of 10 microns and can filter contaminants 10 times finer than a strand of hair! |
| | Cannot turn river water into clean water. | Water filtered with this technology is 19.8 times cleaner compared to conventional filters. Even river water becomes clean and crystal-clear! |
| | Filtration efficiency drops to about 50% after just 3 months of usage, and becomes marginally more ineffective after subsequent use. | Even after 300,000 litres of water (1 ½ years of average use), Diamond Master Filter's filtration efficiency is maintained at up to 95%! |
| | Because it uses sand and gravel, contaminants are easily mixed into the filtration media. This leads to rapid contaminant build-up, lowering filtration efficiency and allowing bacterial growth within the filter. | With Filtron™, Diamond Master Filter can stop contaminants from entering the filter. Impurities within the system can also be flushed out using the backwash feature, ensuring that there is no bacterial growth within the filter. |



Belows are reasons why your family need Diamond Master Filter:
Improves complexion and reduces occurrences of skin allergies!

Improve the condition of hair and reduces hair loss problems!

Improves gum health and oral hygiene!

Reduces acne, pimples, blackheads, white heads and other skin problems!

Cleans fabrics more effectively; no more stains!


Makes plants healthier and more abundant!